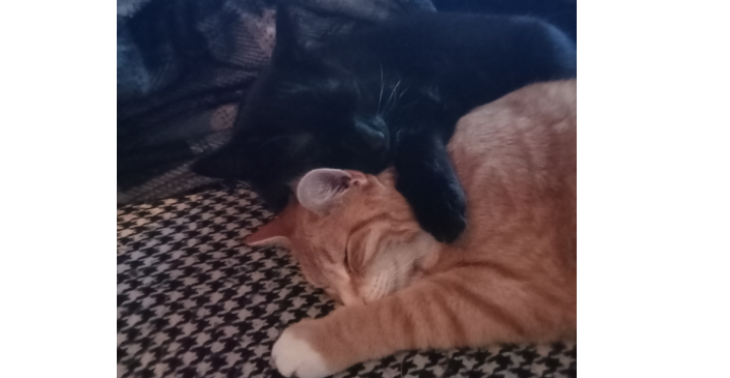 Share this fundraiser via:
€0
of
€1,200
raised

Be the first to support this fundraiser!
Ihr lieben Menschen,
aktuell erfahren wir leider einen Schicksalsschlag nach dem anderen und brauchen nun dringend Hilfe.
Alles begann am letzten Donnerstag, als wir bei unserem Kater Karlsson eine ganz merkwürdige Atmung feststellen mussten. Wir haben uns am nächsten Tag sofort auf den Weg gemacht und sind mit ihm in die Tierklinik gefahren... dort ging alles leider viel zu schnell: Nach einer anfänglichen Untersuchung musste er sofort geröntgt werden und ein Ultraschall war nötig. Leider erfuhren wir daraufhin, dass er einen Tumor hat, seine Lunge komplett eingefallen ist und er innerlich stark blutet. Nichts desto trotz haben wir die Hoffnung einfach nicht aufgeben wollen und auch noch einige weitere Untersuchungen machen lassen, die uns dann aber leider schlagartig zu erkennen gaben, dass wir nichts weiter für ihn tun können und wir ihn folglich einschläfern lassen mussten. Von jetzt auf gleich, ohne dass er uns jemals etwas hat spüren lassen, wurde er uns aus dem Leben gerissen.
Sofort stand für uns fest, dass wir ihn aufjedenfall einäschern lassen möchten, um ihn auch weiterhin immer um uns zu haben.
Die Tierarztrechnung und die Einäscherung belaufen sich aktuell auf Kosten von 1400€, die uns bereits jetzt vor wirklich finanzielle Probleme stellen...
Bei seiner Schwester Lotta ist uns heute ebenfalls ein merkwürdiger Knubbel am Hals aufgefallen, den wir nun aufjedenfall behandeln lassen müssen, bevor auch dieser bösartige Folgen für sie nimmt.
Wir brauchen wirklich Hilfe und freuen uns wirklich über jeden noch so kleinen Betrag. Die Welt steht momentan einfach für uns still und wir wissen nicht wirklich weiter.
Bitte helft uns und vorallem der kleinen Lotta! ❤️
Vielen Dank!
Fundraiser organised by:

Nikolas Tev

Be the first to support this fundraiser!
Show all donations